LanguageChange
Welcome to Canada Aurora Visitor Information
Language Translation Assistance
How to read the this website by your language?
To read our contents by your language,
We recommend you will use the website translation functions.
Google Translation Function
Google Chrome Browser
Google Translation Function
1, Please go to your language's Google Web page and type "google translate".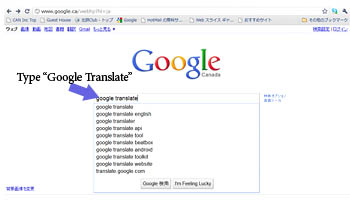 2, Go to Google Translate page.
3, On the Google Translate page, You can change some sections:
Original Language: Japanese
Translate Language: English (or your Language)
Type in the frame to"www.canadaauroranetwork.com"<-You can use this copy and paste
4, www.canadaauroranetwork.com will be shown the right side. click it.
5, Congratulations! Now, you can read the website by your language!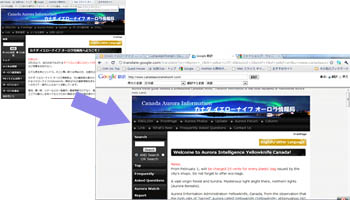 Google Chrome Browser
1, Go to Google page.
2, Download and install the Google Chrome.
3, Open the http://www.canadaauroranetwork.com by Google Chrome.
4, Google Chrome ask you "Do you translate this page?"
  Click "Translate".
5, Congratulations! Now, you can read the website by your language!
about Google Translate function
You can read the lots of webpages by using the Google Translate function.
As you know, This function have about 65% translation accuracy.
Therefore, you may have unreadable some our pages.
Please see some linked site and use translation function to know right information.
Thank you contact our website and interested about the True North.
Canada Aurora Visitor Information
Yellowknife, NWT, Canada